Have you ever considered the correlation between self-confidence and success in the workplace? If not, now is as good of a time to start as any.
What is employee self-confidence?
Fostering an environment where employee self-confidence can flourish has a positive correlation to success in the workplace. It increases employees' performance and engagement by making them feel empowered about contributing in team activities, and boosts their communication skills by allowing them to feel comfortable in expressing their thoughts and opinions.
Confidence is also important to feel happy and satisfied at work. While it is natural to sometimes worry about making mistakes, a lack of self-confidence in the workplace could prevent us from reaching our full potential. It can also hinder our professional development by affecting our beliefs on how well we complete our tasks.
Luckily, self-confidence is something that can be learned! It is a journey that requires constant practice and reflection, and can be achieved by taking small steps.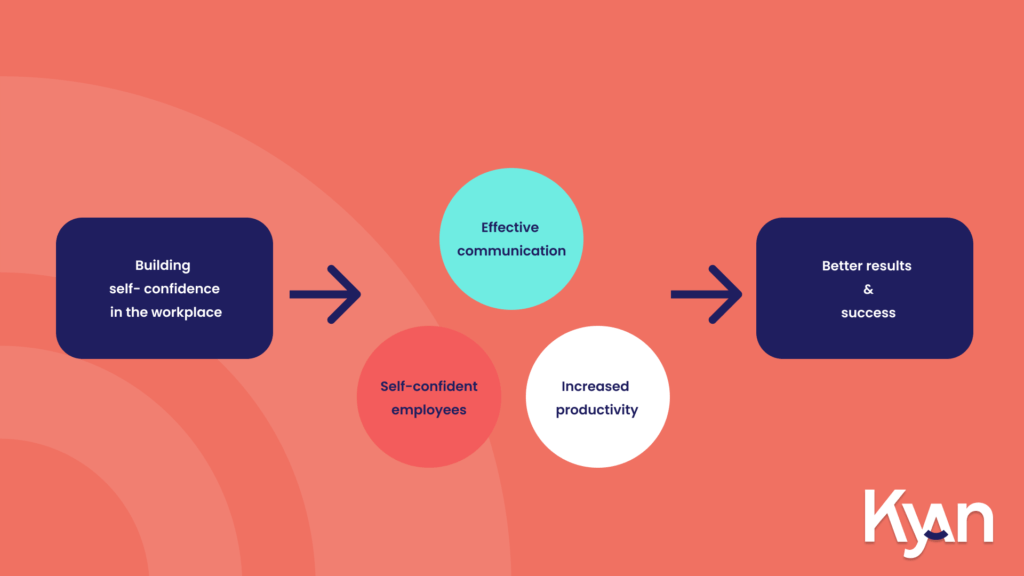 As employees and leaders, how can we improve self-confidence at work?
Recognise your strengths: make a list of what you have already achieved and use it to remind yourself of your abilities
Practice self-compassion: calm your inner critical voice by asking yourself: what would you say to a friend if they were in your situation?
How can leaders foster self-confidence in the workplace? 
Leaders play an important part in fostering a culture of self-confidence in the workplace. This is how you can start:
Provide employees with detailed positive feedback on their strengths and celebrate their accomplishments and successes
Support employees in setting achievable short-term goals that can increase motivation and boost their ability to work towards more challenging, long-term goals.
How can you build self-confidence using the Kyan Health app?
Did you know? Kyan Health's "Accepting Yourself" course offers five practices to help you develop self-compassion and gain a greater sense of confidence.

If you are seeking immediate help, we recommend you to try our "Build self-confidence" practice in the self-care section that will help you find an immediate way to boost your confidence!
Interested in learning more about employee well-being and mental health? Book a demo with us today or click here to learn more.